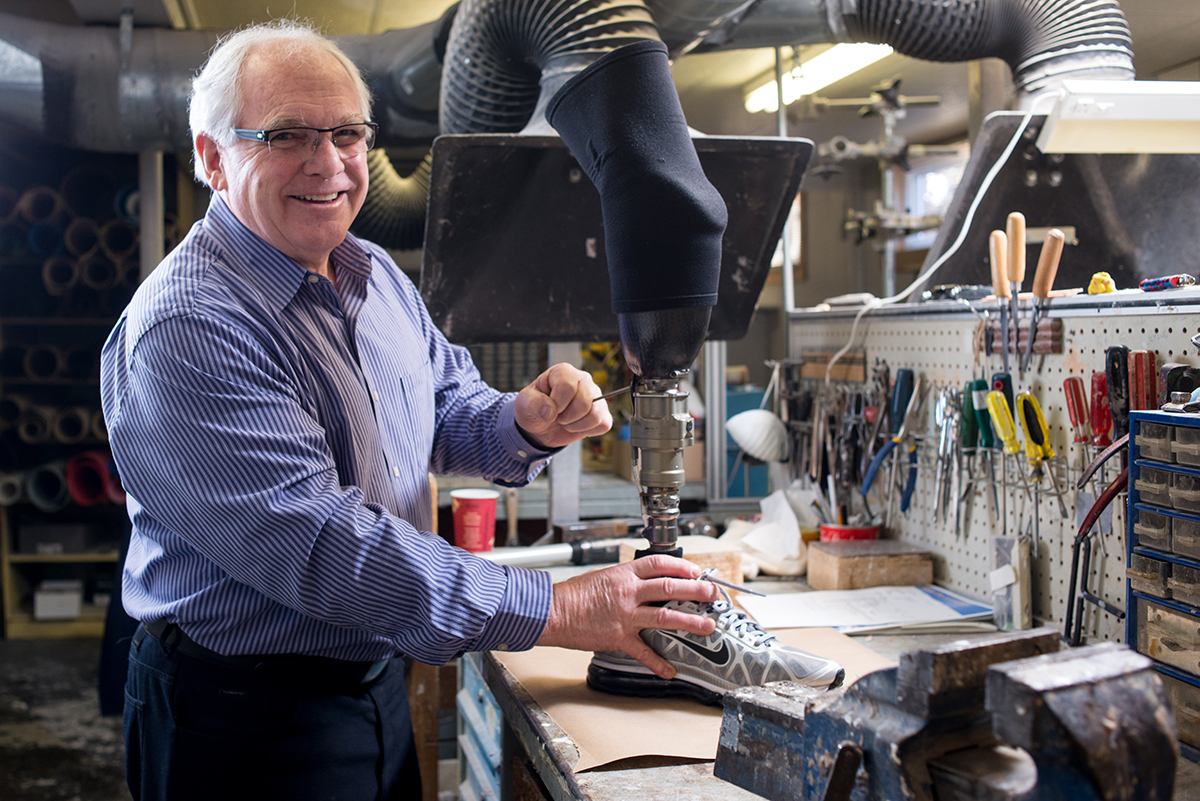 Allan Menzies, C. P. (C), Owner
Allan purchased the family business from his father in 1989. His grandfather started A.R. Menzies & Sons Ltd. in 1920 after suffering a lumbering accident in which his leg was amputated. This provided the catalyst for him to learn the art of prosthetics and start his private practice. This makes the company a third generation family-run business. To learn more about the highlights of the last ten decades, see our Company History page.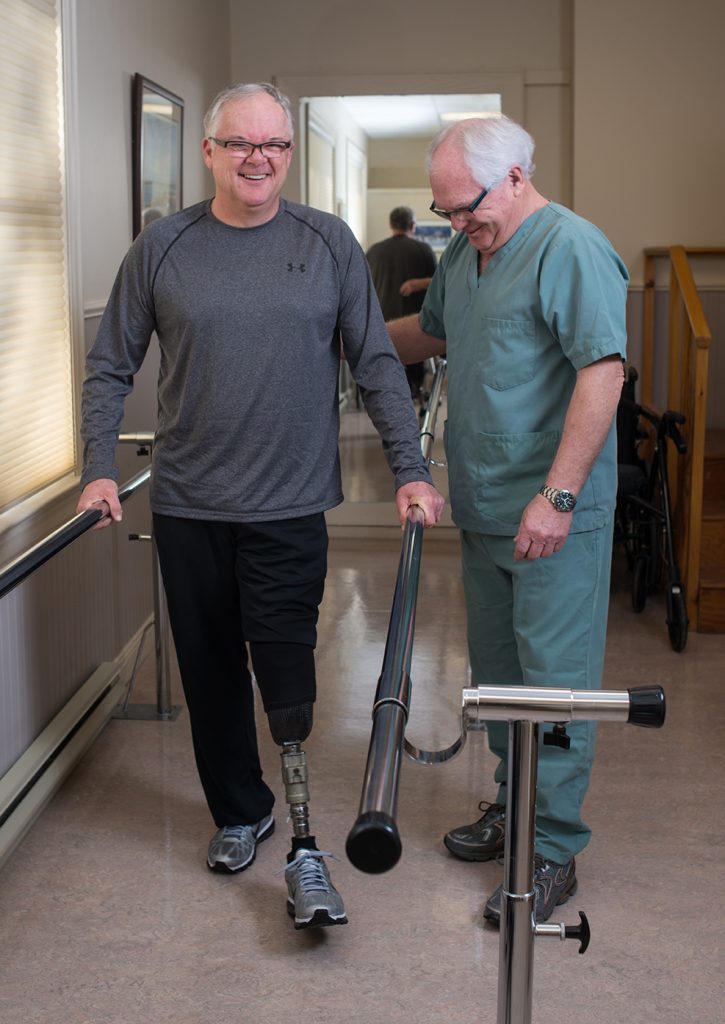 Allan has been a Canadian Certified Prosthetist since 1979. He attended the Rehabilitation Institute at Northwestern University in Chicago and numerous in-depth courses around North America. Allan continues to attend compulsory seminars to continually upgrade his skills and knowledge on advancements of prosthetic components, products and manufacturing.
He has been helping those who have lost a limb rebuild their lives and independence with a combination of cutting edge technology, skilled workmanship and compassionate care for forty five years.
Allan was recognized by fellow Rotarians and received the Paul Harris Fellow award in 2009. This is in recognition of a person's exceptional service to the club and community. This is one of the highest distinctions that a Rotary Club may bestow to a Rotarian.
The field of prosthetics involves the design, fabrication and fitting of artificial limbs (prostheses) intended to replace a portion of the body that has been lost through amputation or congenital reasons.
Designing a prosthesis first begins with an in-depth assessment with the patient and prosthetist. Each person is unique and the range of their activities and goals are different. Every prosthetic device is designed to fit the needs, goals and desires of the individual and their lifestyle.
Work begins on designing an artificial limb by making a plaster mold of the patient's residual limb. The mold is then used as a guide in constructing a socket that fits over the residual limb and connects with the artificial leg below.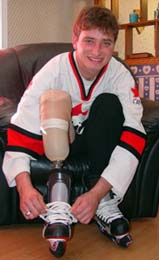 New advances in material development and technology offer comfortably fitted and lightweight appliances. Innovative plastics, acrylics and carbon fibre components, in association with computer technology, provide a diversity of appliances from simple to highly functional devices. Cosmetically, a prosthesis can appear very life-like with the use of prosthetic skins and foam covers shaped to match the anatomical leg.
The clinic at A.R. Menzies is fully equipped to do all customized manufacturing and fabrication onsite. When adjustments and modifications need to be made they can be done easily in-house, providing the patient with greater convenience and service.
Allan is pleased to schedule a complimentary evaluation as well as explore and explain the options that are available to help a patient return to greater mobility and independence.
Prosthetics FAQ
What does Prosthetics mean?

The field of prosthetics involves the design, fabrication and fitting of artificial limbs (prostheses) intended to replace a portion of the body that has been lost through amputation or was absent at birth (congenital).
What types of prostheses are available?

Prosthetic devices include everything from cosmetic restorations to highly functional devices. Cosmetic or passive designs can appear very life-like and are often custom made with silicone materials. Although they typically do not have active functions (e.g. opening and closing of the hand) they may still be a helpful tool for activities of daily living.

More functional upper limb prostheses include body powered (cable driven) and externally powered (myoelectric) devices. Different types of shoulder joints, elbow joints and hands or hooks are available.

Lower limb prostheses are functional devices because they are designed to improve the patient's mobility. The level of cosmetics depends on the patient and the type of leg provided. Foam covers (shaped to match the anatomical leg) and prosthetic skins are available. Covers serve to both improve cosmetics and protect the comonents of the leg. Various functional hip, knee and ankle joints are also currently available.

Every prosthetic device is designed to fit to the needs, goals and desires of the individual. Together with the physician and other member of thehealth care team, you and your Prosthetist can discuss options to determine the best prosthetic device for you.
Do I need a referral?

Service is usually at the request of the physician with the help of the prosthetist as to the type of prosthesis that is to be provided, adjusted, or repaired. Once we have received a prescription from the physician, we work with the individual to determine the optimal design of the prosthesis within the parameters indicated by the prescriber. Our prosthetist consults with the client to determine his/her needs, goals, objectives, the extent of the disability and any other factors which may affect the fit and function of the device. In the event of a new prosthesis, admission is made at the local hospital's rehabilitation wing. Here, the physiotherapist assumes the role of training the client to walk and to become self-sufficient with their new prosthesis. When the physiotherapist and physician feel the client is ready to go home, we assume the role of follow-up on a one to one basis as required.
How much does a Prosthesis cost and how can I pay for it?

The cost of a prosthetic device is based on several factors that vary from patient to patient. These factors include the level of amputation, the activity level of the patient, the components and materials required, the complexity of the design and the time required to fabricate and fit the device. Although there are no set prices for prostheses, we can provide a quotation upon assessment.

Prosthetic products and services are not covered under the New Brunswick Provincial Medicare program. The cost of a Prosthesis may be covered by private insurance agencies, charitable organization (e.g. War Amps of Canada) and in some cases patients may qualify for government assistance through Social Development programs. Other funding agencies include the Department of Veterans Affairs and Workers Health and Safety Compensation Commission. Every insurance plan is different and we recommend you contact your insurance provider for more information.
My Prosthesis is not fitting/functioning properly. What should I do?

If your prosthesis is not fitting or functioning properly or is causing discomfort, contact your Prosthetist for an assessment. We can evaluate the situation and determine what needs to be done.
Modifications to the Prosthesis: Where, when and why?

Where: Menzies is able to provide excellent patient care using our own onsite manufacturing facility. If modifications or adjustments need to be made, they can usually be done onsite providing the patient with greater convenience and better service for their prosthetic needs. The vast majority of our prosthetic sockets are also fabricated in-house.

When: Your residual limb, like the rest of your body, will continue to change over time. Physical changes to the limb may be more dramatic at first but eventually these changes taper off. The prosthesis does not adapt with the limb and therefore modifications to the socket may be required. In cases where anatomical changes of the residual limb are more significant, a new socket may be necessary.

Why: Changes to the residual limb occur as the result of many things including muscle atrophy, reductions in post-surgery edema (swelling), weight gain/loss, and volume fluctuations (fluids). These changes are normal and are expected. Minor changes in volume can be accommodated with the use of prosthetic socks. In the event of more dramatic changes to the residual limb, contact your Prosthetist for an assessment.